If You Can Dream it … Jay Can Build it!
For many luthiers, building just a few models in a few varieties is what they do. That has never been the case for Jay. From the very beginning Jay's fulfillment as a luthier has come, in part, from testing new designs, playing with different wood combinations and from working with customers who bring unique ideas to the table.
One great example of this is the custom painted guitar and painted ukulele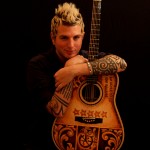 collaboration between Jay and artist Clark Hipolito. This began when Mike Gossin, of chart-topping country music band Gloriana, asked Jay to build him a custom guitar. The request didn't stop there. Mike also wanted acclaimed NC artist Clark Hipolito to customize it further by painting it. Mike's custom guitar project was so fun that Jay and Clark decided to do a series of instruments that were ultimately featured in an exhibit of hand painted guitars, Birds of a Feather, in Wilmington, NC.
Another great example of working to fulfill the vision of a customer is the Patchwork Guitar project. A favorite customer of ours had a very cool idea for a guitar. He thought … what if you took the odd tonewood pieces left behind in the lumberyard, ones that did not have a match to go with them, and crafted a guitar by bringing all the "orphans" together? That way wood that never would have made it into an instrument would find voice. And so a patchwork guitar was born and what a special instrument!
What specialty projects is Jay working on in the shop these days? Check out Works in Progress for the latest news.
---
We invite you to learn more about all of the options available:
Custom Guitars  |  Custom Ukuleles