Stitch Design Co. & Lichty Guitars
Our first introduction to the folks at Stitch came when Lichty Guitars was chosen as the winner of the 2010 Made in the South Awards. A brainstorming session with the team at Stitch and at Leapfrog was a part of our prize. We were so impressed with their energy and their creative designs that when we found ourselves in need of updating LG print materials we looked towards Charleston and to Stitch.
We are grateful to the creative team at Stitch for working with us in designing materials that reflect the spirit of Lichty Guitars and the quality of the instruments that Jay builds. The staff at Stitch are professional in every way and are a real delight to work with. We highly recommend Stitch Design Co.
Owners of Lichty Guitars and Ukuleles now receive a folder with their new instrument that includes the Certificate of Authenticity, Warranty Card, Care Card and more. The folder provides a place to keep all important information about one's heirloom quality handcrafted instrument organized and safe.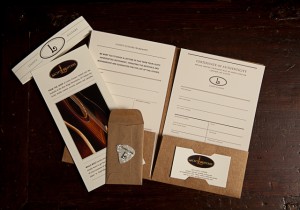 And Lichty Guitars Gift Certificates –