Lichty Guitar Review – Shohei Toyoda
Shohei's original compositions touch heart and soul, his renditions of classics delight.
___________
About Shohei Toyoda – Born in Japan and raised in Ohio, music has been a part of Shohei's life from a very early age. He is a graduate of Berklee College of Music and is winning awards and gaining international recognition. In 2010 he was chosen as one of the top 16 guitarists to compete in Japan's National Finger Picking Contest and he followed this with a two month / 30 show tour in Japan. In 2011 he landed two prestigious awards: Placement in the top five at the 2011 International Finger-style Championship in Kansas and Grand Champion at the International Thumb Picking Contest in Central City, Kentucky.
In 2012 Shohei was the winner of Japan's National Finger Picking Competition.
Shohei now resides in Japan where he performs and teaches private lessons for all skills levels, from beginner to advanced.
Custom Lichty Guitar Specs:
Features: Cuban mahogany back and sides, Lutz spruce top, Mahogany neck, side sound port, Curly maple binding, redwood burl rosette and headplate, LR Baggs Anthem pick-up, Gotoh 510 tuners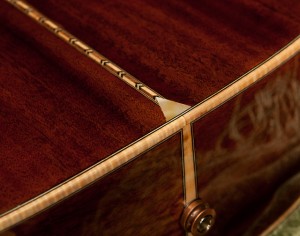 Audio Samples played by Jay Lichty
[mp3j track="Almost There@Almost-there-51.mp3″ vol="100″ autoplay="n" flow="y"]
[mp3j track="Ziggy Won't Walk@Zigg-wont-walk.mp3″ vol="100″ autoplay="n" flow="y"]
[mp3j track="Building Shohei's Guitar@Building-Shoheis-guitar-51.mp3″ vol="100″ autoplay="n" flow="y"]
[mp3j track="Sundays Tune@Sundays-Tune-51.mp3″ vol="100″ autoplay="n" flow="y"]
Guitar Review
Is your Lichty being played professionally or casually?
It is played professionally.  It is my main guitar and I take it to every gig
Any comments about the specific materials used?
I know Jay had chosen the best materials to make my custom guitar.  I remember him calling me with excitement one day to tell me he had found just the right wood.  In Japan where I'm located now, the materials used in this guitar are not so common, so it does get a lot of attention.
Specific to the LR Baggs Pickup: I have an Anthem inside my Lichty guitar and I use LR Bagg's Venue DI at most shows.  The two system makes my life so much easier, not just because of the good pick up but because I can control that sound with the Venue DI.  At every gig it's a different situation with different kinds of sound systems from different brands. The combination of Anthem and Venue DI does the magic by letting me have the control to adapt my sound to any situation.
Please describe each of the following:
Sound (sustain, balance of tones, depth, projection, clarity of notes, etc)
Love the depths of this guitar.  I can clearly hear the low end, and that is very helpful when I'm jamming with others because I can really concentrate on making the "groove".  The high end does speak for itself too, so the balance on this guitar is perfect.  It's hard to explain why, but the guitar sound is very "American".  You don't really notice it when you are playing that guitar in the States, but when you are out of the country, you can hear that traditional "American" quality which makes this guitar very unique and attractive.
Action, Fit, Playability
I love the shape of this guitar.  Small, compact but big sound!
Craftsmanship & Finish
Very nice and sweet.  just as Jay and I has planned.
Reliability/Durability
No major problems yet… that sure is a good sign, and I'm not worried at all about having major problems.
How would you describe working with Jay in the build process?
It is very easy to work with Jay because he "listens" to you.  He took the time to listen to my music, my goals and my visions.  That's the main reason why I can trust his work.  He was kind enough to show me all the materials he is using, how the process goes, how long it takes… etc.  Not many people can do that!  Can't really say specifically about luthier techniques, but I can sure say that he has the power to make those cool ideas into reality!
Final Comments:
Corrie, you're awesome on websites and emailing! Thanks!!! Jay, thanks for listening to my goals and music.
___________________
___________________
Read more Lichty Guitar Reviews and news