Latest Guitar Building Workshop – Day One
While we think magic happens most everyday out in the shop, it is especially true when Jay is teaching. The latest guitar building workshop kicked off today and student David Lanik made a huge leap in just one day toward building his first guitar. The project David has chosen is a modified OM body style and the design will feature a gorgeous set of curly Indian Rosewood, a Sitka Spruce top, Mahogany neck, Ebony fretboard and bridge, Ebony binding and a black pearl rosette. It is amazing to see how much progress they have made in just one day. Over the course of this workshop David will work with Jay building his guitar and will be learning a wealth of information about the craft of the luthier.
and on to Day Two …
______________________
Click here to see images from Day Three
---
Learn more about guitar and ukulele building workshops that Jay offers.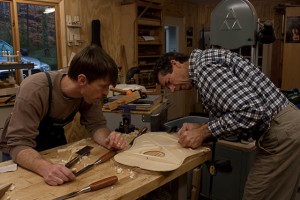 Click here to see a Gallery of Workshop Student Guitars and Ukuleles