L.R. Baggs Pickups and Lichty Custom Built Guitars
"The L.R. Baggs Anthem and Anthem SL, without a doubt, produce the most accurate guitar tone I've ever heard. They are well thought out, well designed and it's a joy to play with them. My personal guitar has an Anthem SL and I highly recommend L.R. Baggs to our custom guitar clients." – NC luthier, Jay Lichty, Lichty Guitars
Learn more about this Custom Guitar and Ukulele Builder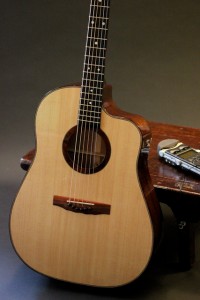 From our friends at L.R.Baggs:
"Think you know what an internal microphone is all about? Think again. This mic will shatter your preconceptions.
This revolutionary new amplification system features our patent pending Tru-Mic microphone technology. The mic is mounted to the bridge plate inside of the guitar to capture the majority of your guitar's true voice in a way that only a microphone is capable of – plus it is amazingly feedback resistant. Our Element Under Saddle Pickup carries only the lowest frequencies for punch and authority.
A sound hole mounted controller has volume, mix and phase controls with a battery check feature so you can always be sure of your battery at any gig.
Now you can plug in, crank it and sound more real than you ever thought possible."
" I could have never anticipated this and I still can't hardly believe
it. " – John Standefer, 2002 National Fingerstyle Guitar Champion
Just a few of the performing artists who play Lichty Guitars with LR Baggs pickups
Geoff Achison
At the age of eleven this internationally acclaimed guitarist discovered an old guitar under the stairwell of his family home. Looking back this must seem to Geoff Achison like one of those life-changing moments. In the isolation of his rural Australian home he taught himself how to play, developing a style uniquely Achison. Early influences by the recordings of Eric Clapton, Freddie King, Albert Collins and other fueled his love for the blues. Over the years he has racked up a slew of awards that recognize his blues finesse as well as he talents as a songwriter, singer and his production of numerous critically acclaimed albums. Spanning several decades, an abbreviated short list of awards might include the following honors:
Melbourne Blues Appreciation Society 2013 Album Of The Year, Band Of The Year, Producer Of The Year with Chris Wilson
Top Ten Hottest New Guitarists Readers Poll – Guitar Player Magazine 2008
Best New Male Artist – Lithgow 1994 (Aust.)
Best Blues Guitarist – Lithgow 1994
Album Of The Year – (Big Machine) – 'Now Dig This' PBS Fm1994
Blues Performer Of The Year – Melbourne Blues Appreciation Society (MBAS) / 3PBS FM 1995
Albert King Award – Memphis USA 1995
Album Of The Month – (Mystery Train) Jazz FM, London UK 1998
Male Artist Of The Year – VicTas Blues Music Awards 1999
Australian Songwriters Award – (Comin' Ta Getcha)1999
Most Popular Guest Award – Rainbow Hotel / MBAS Jam 2001
No. 1 Songs Award – (Comin' Ta Getcha) Raw Talent Music Awards 2001
Independent Music Awards USA – Finalist (Adam & Eve) 2001
Kweevak usa 'Album Of The Year' critics choice – (Gettin' Evil) 2002  – (Gettin' Evil) 2002
Kweevak usa 'Album Of The Year' viewers choice – (Gettin' Evil) 2002  – (Gettin' Evil) 2002
Male Artist Of The Year – Victorian Blues Awards 2002
Band Of The Year – Victorian Blues Awards 2002 (The Souldiggers)
Band of The Year – Chain Blues Awards 2007 (The Souldiggers)
Kweevak Music Magazine usa – (Little Big Men) 2007 Readers Choice awards
On the US legs of his international tours Australian guitarist Geoff plays a custom Lichty Guitar with a L.R. Baggs Anthem Pickup …
American luthier Jay Lichty crafted this custom guitar for me in 2011 especially for my US tours. We exchanged many emails discussing the desired specs and I must say that the results far exceeded what I was hoping we'd achieve. It is perfectly set-up, incredibly comfortable to play, sounds amazing and is just beautiful to look at. We opted for an LR Baggs 'Anthem' pickup system which is an unobtrusive mic/piezo arrangement. It's very a natural and warm sounding and I'm similarly impressed with that product too. Well, I've had some nice axes come my way, but this one is making me re-think what I expect from an acoustic guitar. It's a work of art Jay Lichty – thank you! – Geoff Achison
www.geoffachison.com
Shohei Toyoda
Born in Japan and raised in Ohio, music has been a part of Shohei's life from a very early age. He is a graduate of Berklee College of Music and is winning awards and gaining international recognition. Shohei now resides in Japan where he performs and teaches private lessons for all skill levels, from beginner to advanced.
Guitar competition highlights include:
One of the top 16 guitarists to compete in Japan's National Finger Picking Contest and he followed this with a two month / 30 show tour in Japan in 2010
Placement in the top five at the 2011 International Finger-style Championship in Kansas and Grand Champion at the International Thumb Picking Contest in Central City, Kentucky in 2011
Winner of Japan's National Finger Picking Competition 2012
Third place winner at Walnut Valley for the 2013 International Finger Style Guitar Championship in September 2013.
Shohei Toyoda plays a custom Lichty guitar with a L.R. Baggs Anthem pickup …
I have an Anthem inside my Lichty guitar and I use LR Bagg's Venue DI at most shows.  The two system makes my life so much easier, not just because of the good pick up but because I can control that sound with the Venue DI.  At every gig it's a different situation with different kinds of sound systems from different brands. The combination of Anthem and Venue DI does the magic by letting me have the control to adapt my sound to any situation. – Shohei Toyoda
www.shoheitoyoda.com
Sit back and enjoy a sample of Shohei's magic …
See more on the YouTube playlist
[br]
Noah Guthrie
Noah is a South Carolina singer/songwriter who is rapidly making a name for himself. It doesn't seem to matter that Noah just graduated from high school or that he is about as down to earth as one gets. Superstar seems the track he is on. His music has been featured on the Ellen DeGeneres Show and he has been on the set and in front of millions of viewers as a guest of NBC's Today Show and his video has been featured on Jay Leno's Tonight Show.
The best way to learn about Noah is to tune-in to his videos featured at Only1Noah on YouTube. At a recent count of his YouTube videos they have been viewed over 21,000,000 times on his channel alone. While you'll find mostly covers brilliantly worked over with his unique style (his rendition of LMAFO's "Sexy and I Know It" has had over 11 million views), he is a powerful songwriter and his original music is even better so there is lots to look forward to from this talented guy.
Among the Wildest Things is his first CD, it's all original music and it is amazing!
Noah plays a chechen Lichty Guitars with an L.R.Baggs Athem pickup …
The Anthem is with out a doubt my favorite pick up to play with. It's so rich and dark and really brings out the true tone of the guitar! Also, the blend knob is great for finding your own sweet spot. – Noah Guthrie
_________________________
_____________
Learn more about L.R.Baggs