Hand Painted Guitars and Ukuleles
Hand painting is just one of many options available when you order a custom Lichty guitar or ukulele. We invite you to learn more:
Custom Guitars  |  Custom Ukuleles
Custom Guitar Options  |  Custom Ukulele Options
---
Every Lichty handcrafted guitar and ukulele is a one-of-a-kind heirloom quality instrument. Custom guitar builder Jay Lichty sees to that. He builds each by hand
from start to finish and folks often notice they look as beautiful on the inside as they do on the outside. It is that kind of attention to detail that makes them both visually stunning and acoustically breath-taking.
When you take a custom guitar that is, in and of itself, a work of art and then add the brush strokes by the acclaimed artist Clark Hipoito, or the stunning inlay of Craig Lavin, the result is an instrument that is unlike anything you have ever seen is created.  These take guitar art to a whole new level.
---
The artist collaboration between custom guitar builder and guitar artist began when Mike Gossin of top country band commissioned a very special Lichty Guitar. He wanted the quality, tone and feel of a Lichty with hand painted guitar artwork by Hipolito. Jay admits he was
concerned with the first hand painted guitar about how the application of paint might impact the quality of the tone. When the strings went and he played that first tune all worries vanished. You can listen in to the audio files provided below to hear for yourself.
The collaboration was pure joy for everyone and Mike Gossin's custom acoustic guitar became the catalyst for further projects.
Clark and Jay next tackled working together on three handcrafted hand painted guitars and one hand painted ukulele for the Birds of a Feather Art Exhibit. These included an Ambrosia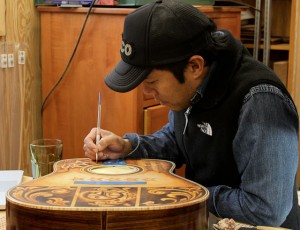 maple dreadnought guitar, a Honduran Mahogany parlor guitar, an Indian Rosewood OM guitar and a koa tenor ukulele. Jay built each to the finishing stage, Clark applied original artwork to each and then the finish was applied.
Clark is the founder of ArtCo Surf and his work can be seen riding the waves (he specializes in hand painted surfboards) on murals in high-end restaurants, on stage with Mike Gossin and framed up and on the walls of countless homes and businesses.
Watch an interview with Clack Hipolito

Painted Guitar and Ukulele Galley
---
Learn more about all of the options available on:
Lichty Guitars Performing Artists
In addition to Mike Gossin, we've got some pretty talented performing artists playing custom Lichtys including Bonnie Raitt, Geoff Achsion, Randall Bramblett and more. Learn more.